No sooner did we have the mods above completed, we decided to take things to the next level. Stage 3 is all about adding some power and giving the truck the stability to handle the power. The only way to really get there is via big block power and an extended chassis. We started with an extended chassis (adds 30mm over stock for a total of 330mm long) from 3Racing. The chassis looks awesome and should give us plenty of room for a big block engine and will also make the powerful truck more stable and drivable. It even comes with an extended center driveshaft to compensate for the extended length. You will notice in the picture below that the chassis is stretched in the front of the truck. We liked this concept as it should help keep the front end on the ground.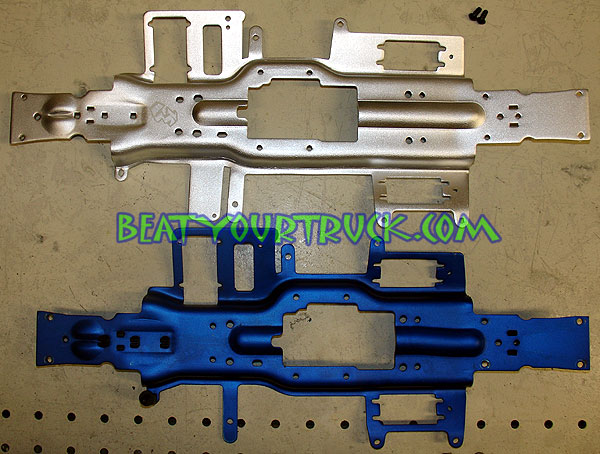 So let's tear everything apart! The Revo is well designed and total teardown was quick work. It is easy to remove the entire front and rear assemblies of the truck without even taking the wheels off.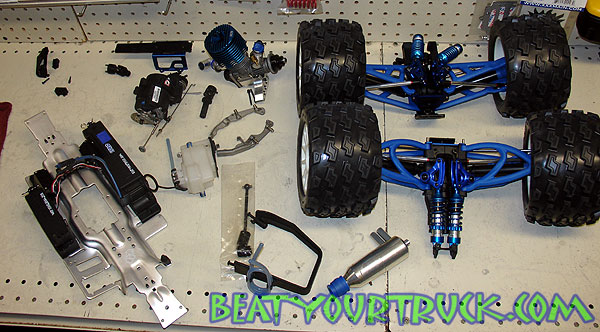 During the chassis installation, we installed an aluminum steering brace. The stock plastic one is known to strip out easily and for $10, we thought it was best to upgrade this now. Note that we will be doing a complete steering system upgrade on the project truck in Stage 4 but we are out of money for the moment so it will have to wait!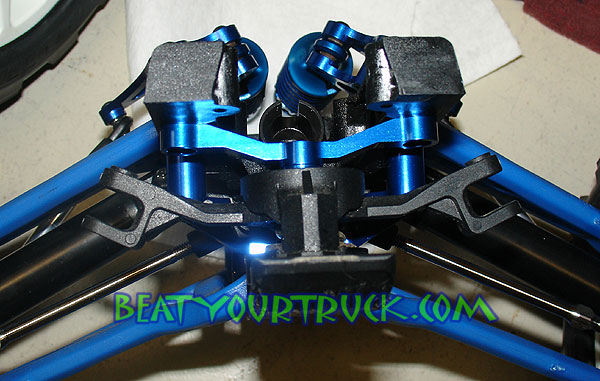 Reassembly should have been a snap but sadly, the 3Racing chassis needed some modifications. Several holes were out of alignment and one of the electronic box mounting tabs was WAY out of whack! That tab required some serious bending to get it into place. The chassis is still a nice piece but ours took some significant mods to make it fit. Be prepared to get out the Dremel, vice and hammer to make it fit. Others we know that have installed this chassis did not encounter any problems with their installs so perhaps we just got a "bad" one? Regardless, we got it together and it really stretches out the truck. Goodbye 1/10 scale. Hello 1/8th scale!

Our next install was a big block engine mount and the New Era model RV111V2 fit the bill perfectly. It comes with everything you need including linkages and the mount itself is super BEEFY and very nicely made. Installation of the mount is quick and easy. This is a high quality piece and we highly recommend it. Kudo's to New Era for doing such a great job on this mount package! New Era also offers a nice big block header package that lays flat and again, comes with everything you need to install it (retaining spring, exhaust seal, etc). We opted for one of our favorite horns to compliment our engine, the power producing and excellent sounding CVEC pipe. CVEC makes a specific pipe for the Revo with the wire mount relocated towards the middle of the pipe. While this might have been the "perfect" pipe to go with, we already had a big block CVEC on the shelf (that we used in a BB T-Maxx) and decided to use it. It required a slightly longer mounting wire and lucky us, New Era includes a long straight wire in their header kit! These guys think of everything!

We decided to toss a Mach .26 into the truck as we had one on the bench (from our LST that we upgraded with the Racer Edge 32). The Mach has always been a reliable and powerful engine. It holds a tune extremely well and if it can propel the big fat LST around, it should be able to handle the Revo nicely!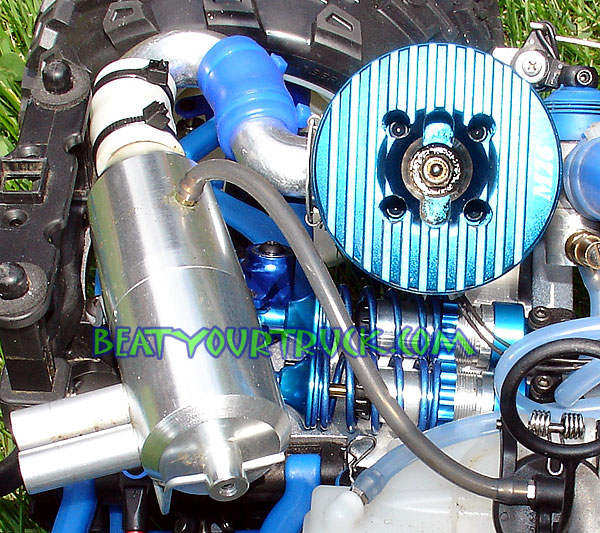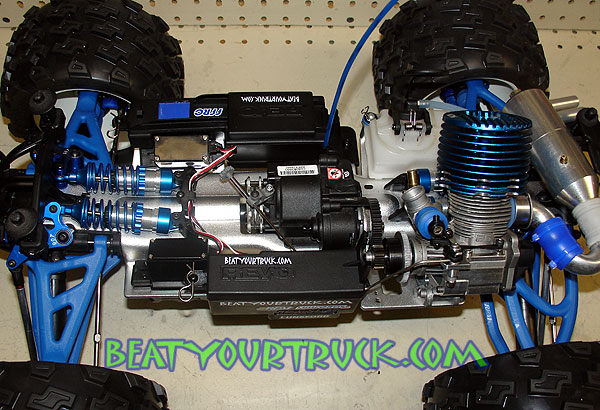 A couple of other hop-ups included 23mm Proline wheel adaptors and Proline Wabash wheels. We stuck some 40 series Dirt Hawgs to them and have high hopes of mega traction in our future. A Traxxas/MIP on-board temp gauge was installed to keep the engine temps in check.

As the truck is now 30mm longer than stock, the stock body does not fit well or look good on the truck. A Crowd Pleaser 2 body for an LST (yes.....this Revo is now LST sized) fits quite well. A two tone blue paint job with some white stripes and white scallops seemed to work well with the blue truck scheme and big white Wabash's. The FullForceRC bumpers were spaced out approximately 3/8" each to make the body fit as close to perfect as possible.

Finally it is ready to run! Here are a couple of "pretty" shots before we take it out and HAMMER it!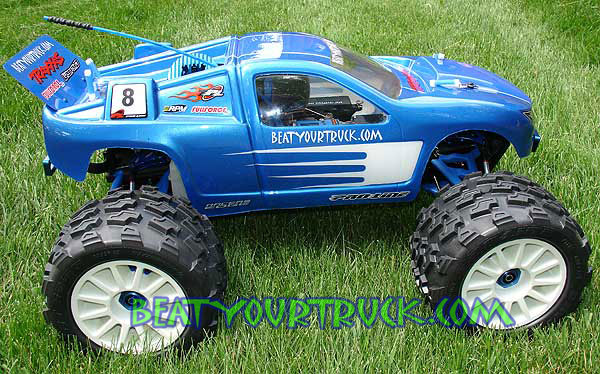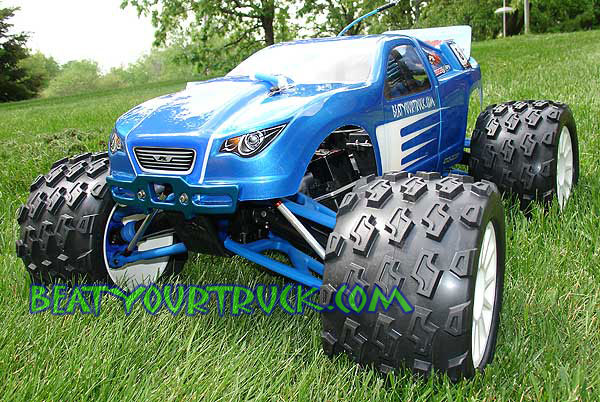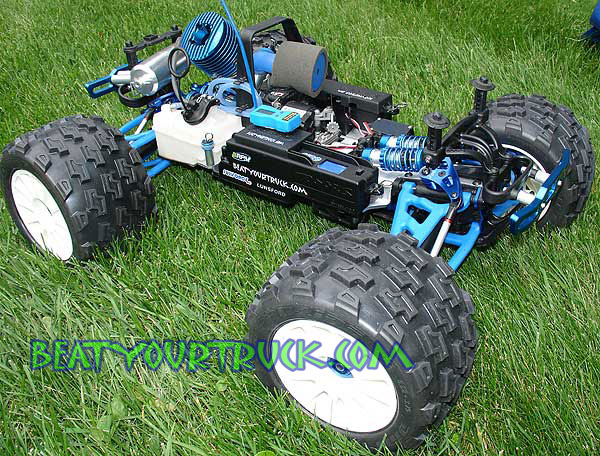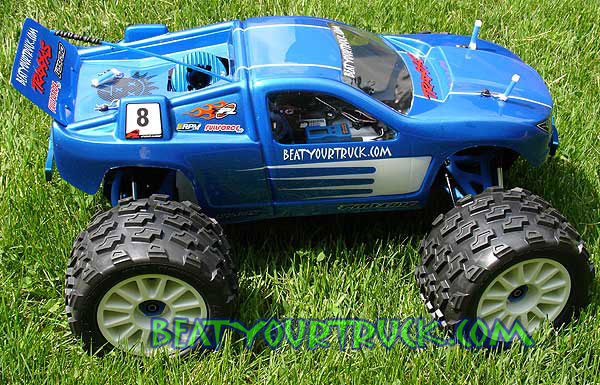 Stay tuned for more hop-ups and some serious beatings!

Future hop-ups include:
- lipo rx power
- Apogee LOA battery alarm system
- improved, metal gear steering servo(s)
- upgraded steering servo saver
- rollbar (we better get this installed quick!)
.....and more!
---

VIDEO UPDATE!

Here is a quick video of some of our bash testing with our Project REVO.
It is quite capable of the double back flip especially when we got the engine tuned so the truck was hitting secoind gear.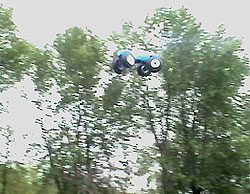 Download the video (11MB)