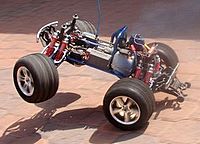 The www.beatyourtruck.com web site is privately owned and operated. It costs a significant amount of money to keep a web site of this magnitude operational. These costs can affect the amount of funds we have available for purchasing and reviewing new products and undertaking new projects.

In order to keep BYT alive, we have started selling advertising space to RC manufacturers. This has helped defer some of the web costs but not all of them. We need your help!

If you enjoy this web site and come here often to see the Gallery, check out the Videos or chat on the BYT Forum, please consider making a donation to BYT. Even small amounts help. In fact, with the large number of visitors BYT has every day, if visitor would donate just 1 cent, BYT would have more than enough money to run the site entirely on donations!

BYT is not about making money. It's all about the love of radio controlled vehicles. We are simply looking to lessen the monetary burden of running the web site. If we can spend less money on running the site, BYT can purchase more products for the review section, start more projects and purchase additional RC vehicles.

If you are a BYT Forum Member, check out our Supporter Packages that will enhance your forum account and get you some nice goodies!
It's safe and you do not need a PayPal account to donate.
Thanks for visiting and even if you can't afford to help us with the site, please feel free to visit and participate!