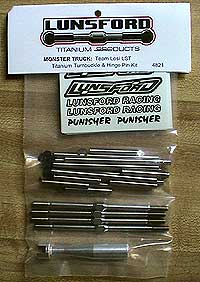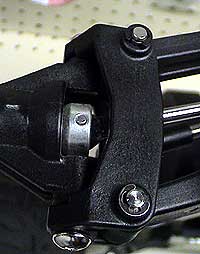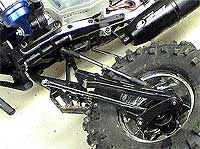 The only thing holding the tire on
is the Lunsford turnbuckle!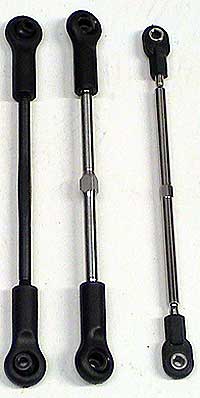 LEFT

= stock LST turnbuckle


CENTER

= Lunsford LST turnbuckle


RIGHT

= Lunsford T-Maxx turnbuckle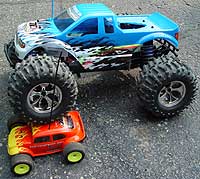 We have been bashing with the Lunsford LST Monster Titanium Kit (Lunsford part number 4821) for the Losi LST. It includes titanium hinge pins (16 of them), e-clips, titanium turnbuckles (4 of them) and a handy adjustment wrench.

What better way to lighten the LST up a little and give it more strength in areas that are weak.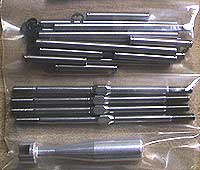 PACKAGING - As always, Lunsford packaging is great. Everything comes in its own sealed compartment. That makes the assembly process much easier. The kit includes titanium hinge pins (16 of them), e-clips, titanium turnbuckles (4 of them) and a handy adjustment wrench. The bonus is the included wrench so you can fine tune your turnbuckles for optimum performance. No messy plier marks munging up your beautiful new turnbuckles! Lunsford is always generous with their decals as well. Nothing says "my truck is tough as nails" as some Lunsford decals gracing your beaten Lexan body.


QUALITY - Everything from Lunsford is nothing short of top notch. The parts are beautifully made with very clean threads (no burrs to be found) and the polish on the titanium is excellent. The kits comes with new hinge pin clips in case you launch your stockers across your shop when disassembling. I love it when you get extra clips! They are always a welcome item in the toolbox in case one goes MIA during a bashing or racing session.

PERFORMANCE - Without a doubt, this is a must have kit for the LST. The stock turnbuckles are weak and bend quite easily. We had a LOW speed encounter with a tree and the turnbuckle bent AND snapped like it was made from thin balsa wood. Seriously, the impact was minor but the damage dealt to the stockers was major.

Since the installation of the Lunsford LST kit, we have hammed many more immovable objects at much greater speeds without a whimper from the turnbuckles. In fact we have snapped off some suspension arms and the only thing still holding the wheel assembly on were the Lunsford Ti goodies.



The kit uses the stock rod ends and that is ok. The stock rod ends seem to be pretty beefy and have held up well so far. The hinge pins have worked well also. As previously mentioned, we have snapped arms off with no ill effects to any of the hinge pins (now if only RPM would make some arms for the LST).

FIT / APPEARANCE - No problems here at all. The pins fit snuggly into the LST carriers and the turnbuckles were a perfect fit.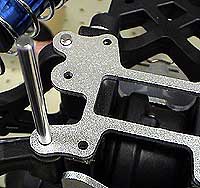 How do they look? Unfortunately, hinge pins and turnbuckles do not get the glamour "ooohs and aaahs" of shiny shock towers and skid plates. Just remember this, although they are not overly visible on the truck, their beauty shines through every time you go out and bash and they do not fail. No bends, breaks or snaps.

COST / VALUE - Unfortunately, turnbuckles and hinge pins seem to be overlooked by the average "Joe" out looking for truck hop-ups. Even though the average "Joe" has broken/bent his share of them. The performance and reliability delivered by this kit gives them high marks in the value scale. When you hit the track or the local dirt pile, knowing that you have the strongest tb's and hinge pins is a great feeling. It is one less thing to go wrong and ruin a good day of racing/bashing.

The kit cost $100 and is worth every penny. Especially when you figure you are getting 16 titanium hinge pins, e-clips, 4 titanium turnbuckles and a handy adjustment wrench. Reliability is a hard thing to put a price on. After all, you have spent hundreds and hundreds of dollars on your truck. Don't want to waste your time replacing inferior/stock parts.

SUMMARY - Lunsford parts are featured on EVERY BeatYourTruck vehicle, from our Mini-T's to our monster trucks. Not just some, but every truck. If that does not tell you something, it really should. This is a great kit and like we mentioned before, if you have an LST, you are doomed to do some damage to the turnbuckles at the very least. Make a preventative move and upgrade to this kit.

Check out this kit and other very cool stuff at the Lunsford Racing web site and tell them the guys at Beat Your Truck sent you!
---
UPDATE / SETUP TIP: Since we have installed FlexTek RC titanium suspension arms, we have had a few crashes where the outside turnbuckle ball stud will actually pull out of the C-hub. Add a small elastic nut to the ball studs where they mount to the C-hubs (see picture below - add nut to mount circled in the picture) and this will strengthen this mount significantly. Losi should have had elastic nuts on here from the beginning. Sadly until we install Lunsford and FlexTek to our LST, the arms would always bust or the turnbuckles would bend/snap before the ends even had a chance to pull out!